The House the Lord Built
"Unless the Lord builds the house, the workers labor in vain.  Unless the Lord watches over the city, the guards stand watch in vain.  In vain you rise up early and stay up late, toiling for food to eat–for the Lord grants sleep to those he loves." -Psalm 127:1-2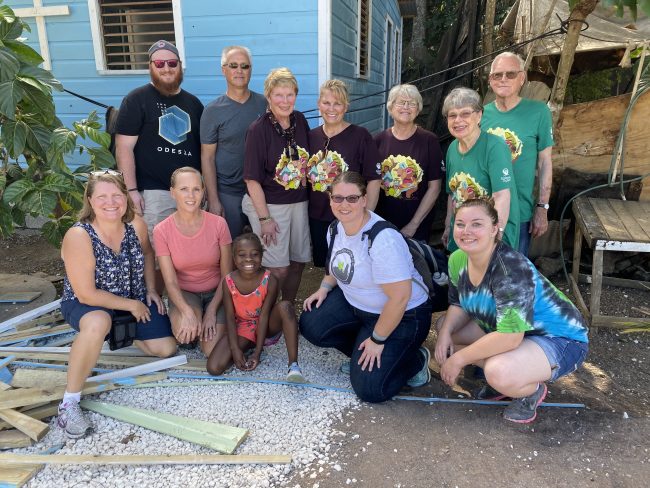 After a full day of travel, our Embracing Orphans Mission Team finally made it back to Pasco airport last night at 11:57pm.  It was nearly 3am in Jamaica, so everyone was pretty tired getting off that last flight; but it was a holy exhaustion, and that always feels good.  The 10-day trip was filled with building… new relationships, new friendships, and a new house for a wonderful family. We spent time with orphans at a couple of different children's homes, enjoyed getting to know the incredible young women at The Father's House, and worshipped with the 7th Day Church of God in Lucea.
I was invited to preach in the church and shared this scripture from Psalm 127 with the congregation.  The women in that particular church all wear hats in worship, so I made a "hat" out of a handkerchief borrowed from my mom and a bobby pin in my hair.  Here is a paraphrase of the sermon, but in order to really feel like you are in the moment, please spend an hour reading through Malachi 1 and singing a few hymns accompanied only by drums and four tambourines.  Also, it was really humid and 88 degrees, so we were all sweating buckets. I tore apart a couple pieces of cardboard so we had something like fans for the two hour worship service.
"Unless the Lord builds the house, the workers labor in vain,"  Psalm 127 states. We spent the last 5 days building a house with the Johnson family, but it wasn't us who built this house.  We came all the way from Washington State to be here in worship with this congregation because we all love God and wanted to share His love with others.  But we didn't build this house. Embracing Orphans didn't build this house. You didn't build this house. God built this house. Unless the Lord builds the house, the work was done in vain.  It won't last. Unless God builds the house, it was an empty exercise and won't fulfill its purpose. How do we help families? Through the work of the Lord in our lives and in our community. How do we care for the orphan and the widow?  By building houses with the Lord.
The Psalm continues, "In vain you rise up early and stay up late, toiling for food to eat–for the Lord grants sleep to those he loves."  Have you ever been awake at night, worrying about your life? I know I have. Anxious about having enough money and time to do everything I need to do, makes for a sleepless night.  But that is not how God wants us to live our lives! He doesn't desire us to be anxious all night, worrying about our life. He wants us to trust that He is building our house. He is providing for our families.  He is guiding our lives. God is working on us and doesn't ever stop building our house.
As you go through this week, I ask you to pray for us, and pray for this family.  Pray that God will continue to build our houses and restore our families. Because God built this house, their precious daughter, Julian, was able to come home after being away for nearly 9 years.  The work of constructing the house is completed, but the hard work of rebuilding this family and restoring broken hearts will continue… but we trust that God is not finished building this house.
After I finished preaching, Pastor Rodrick preached a short, very loud, fiery sermon about when God builds the house, not even a hurricane can tear the house apart.  It was a good day in church.
As we prepare for Thanksgiving and Christmas coming, as we celebrate around tables with family, please remember that God is the one building your house.  This Sunday in worship we will dedicate our 2020 pledges to the General Fund and the Building Fund. Please prayerfully consider what God is asking you to give to provide for the needs of our church.  And always remember that God never stops building your house and your family. Thank you for your faithful gifts to send our Mission Team to Jamaica to care for orphans and build a house. Thank you for your prayers and love.  It was amazing to be there… and it's good to be home.
Thank you, God, for building our house.  Help us always to remember that everything we have is a gift from you.  As we care for our church, and love your people all over the world, may we see your protection, your provision, and feel your presence.  Give us faith to trust you will continue to provide for all our needs. Amen.
In Christ,
Pastor Hanna P. Shearer
In Christ,
Rev. Hanna Peterson Shearer