The Faith We share
In the presence of God and of Christ Jesus, who will judge the living and the dead…I give you this charge:  Preach the word; be prepared in season and out of season; correct, rebuke and encourage— with great patience and careful instruction.
– II Timothy 4:1-2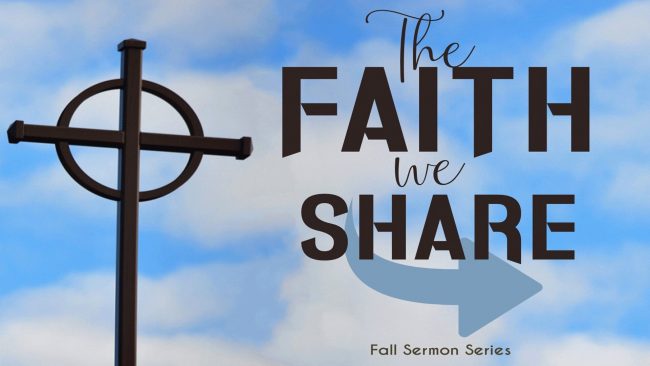 Tomorrow I turn 47.  It has been 20 years since I began serving the Presbyterian Church as a Minister of Word and Sacrament.  My pastoral calls have taken me to California, Kelso, Oklahoma and Kennewick.  God has taught me of His great faithfulness in each of these calls.  God continues to teach me of his love, mercy and grace daily.  I am humbled by the faith we share.
As Paul encouraged his protégé, Timothy, in his second letter, he gave this charge: "Preach the word; be prepared in season and out of season; correct, rebuke and encourage–with great patience and careful instruction."  These words have been a reminder to me in my ministry.  A reminder that there are seasons of faith, that pastors are encouragers and, at times, correctors.  I am reminded that it takes great patience and care to do this well.
This fall, our Lectionary based sermon series is called, "The Faith We Share".  We are returning to many of our beloved activities, groups, schedules, and habits as a church.  It is a new season in the faith we share.  I pray that you, too, will feel the call of God in your life to connect with a small group for study and support.  That you will be encouragers of one another, and, at times, challenge each other in your life, that we may continually become more faithful disciples of Jesus Christ.  This is the Faith We Share.  This is the God we serve.  This is the charge of discipleship.
Lord of the universe and leader of your people, give wisdom to all those who exercise authority.  Teach them to put the good of the many before the greed of the few.  Forgive us for selfishness, greed, and anger.  Help us all to love truth and to hate falsehood and corruption, and, above all, urge us to remember that the one who would be greatest must learn to be the servant of all; for Christ's sake. Amen.