Sabbath Hospitality
One Sabbath, when Jesus went to eat in the house of a prominent Pharisee, he was being carefully watched…Then Jesus said to his host, "When you give a luncheon or dinner, do not invite your friends, your brothers or sisters, your relatives, or your rich neighbors; if you do, they may invite you back and so you will be repaid. But when you give a banquet, invite the poor, the crippled, the lame, the blind, and you will be blessed. Although they cannot repay you, you will be repaid at the resurrection of the righteous." – Luke 14:1, 12-14
Keep on loving one another as brothers and sisters. Do not forget to show hospitality to strangers, for by so doing some people have shown hospitality to angels without knowing it. – Hebrews 13:1-2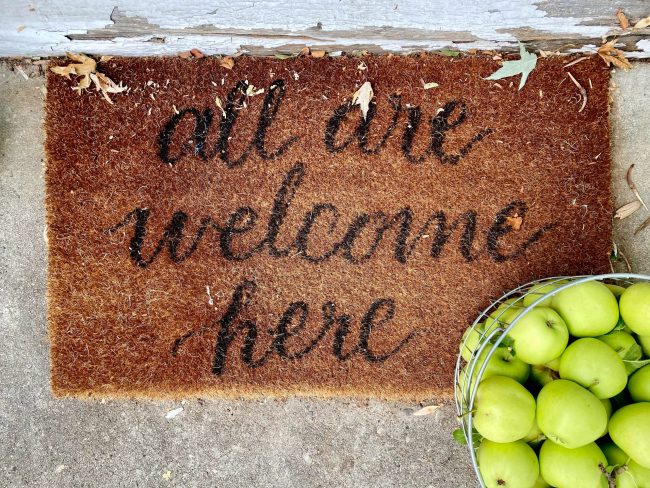 When was the last time you enjoyed a large dinner party with friends, let alone with strangers? For some of us, it's been a while. The pandemic has altered our table fellowship for a time. Yet, when I read the Gospels, I'm reminded just how much Jesus liked to eat with people – all kinds of people! Often, Jesus entered people's homes as the guest – but by the end of the meal, we often see Jesus functioning as the host. But whether he was the guest or the host, Jesus brought people (family, friends, strangers and even enemies) together around the simple gifts of bread and wine, and by doing so, he showed us a different way of being together. Jesus exercised Sabbath hospitality – and Jesus invites us to do the same.
In Hebrews 13, the writer of Hebrews says, "Do not forget to show hospitality to strangers, for by so doing some people have shown hospitality to angels without knowing it." When have you shown hospitality to angels without knowing it? (When have you not, and wished you had?) When has someone shown a gracious act of hospitality to you? What was that like? How did it impact you – body, mind, and spirit?
Prayer of Confession: Merciful and hospitable God, cleanse our hearts of any ill will we may hold against neighbors. When they do not think as we do, we often judge them unenlightened. If they behave differently, we pin labels on them. We choose as our guests those we deem worthy of places of honor within our households. Yet through Christ you opened heaven to all without regard to their status in society. Forgive our inability to do the same, and save us from all pride and prejudice in our dealings with your children.