Welcome the African Children's Choir
The Lord had said to Abram, "Go from your country, your people and your father's household to the land I will show you. "I will make you a great nation, and I will bless you; I will make your name great, and you will be a blessing. I will bless those who bless you, and whoever curses you I will curse; and all peoples on earth will be blessed through you." – Genesis 12:1-3
When God called Abram and made a covenant with him it was not only for his own blessing. God told Abram, "all peoples on earth will be blessed through you." Just as God continues to bless the people of Abraham, we have all been blessed because of the relationship we have with his descendant, Jesus.  God desires that we share our blessings with others.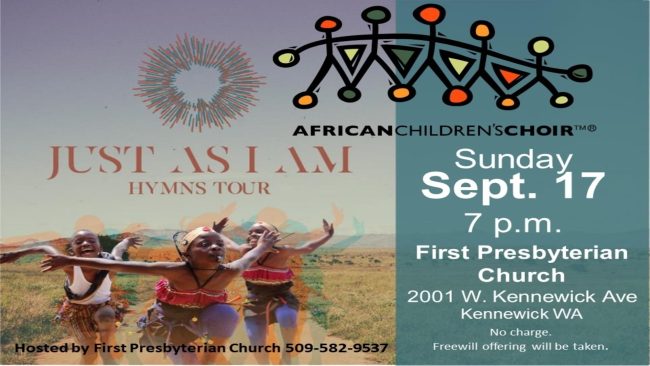 This week we have a very special blessing that God is giving us to share with our community. Once again we are privileged to welcome the talented African Children's Choir this Sunday, September 17th at 7pm in our sanctuary. These children were called by God, left their country, their people and their homes. They are blessed to travel with the choir to extend God's blessings to all the churches and communities they perform in all over the West Coast of the United States. All the people they encounter are blessed through them, just like Abraham.
Even if you don't have a singing talent or ability to join a choir, God has a way to bless others through you. Perhaps it is through sharing your home through hospitality, your time through volunteering, or your resources through your offerings. It might be the simple act of inviting someone to join you at church or Bible Study. It could be giving rides to our Trailseekers or Middle School students so they can participate in their programs and in worship. God will bless others through you when you are faithful to go where he leads.
Please plan to join us for the African Children's concert this Sunday at 7pm and bring a friend with you. You will be blessed!
God, our Creator, you asked man and woman to tend this garden of your creating, to care for the creatures of your making, to speak and so join you in creating your kingdom on earth as it is in heaven. We confess that we have sinned; we have used your creation rather than cherished it, we have loved greedily rather than gratefully, we have spoken words of destruction rather than love. We acknowledge the damage our heavy footprints, our hard hearts, and our rash tongues have done, and we pray for your forgiveness. Take the dust of our lives and re-form us into your image, and then breathe into us the grace to live for you.  Amen.