STEWARDSHIP 2020 – Investing in Kingdom Work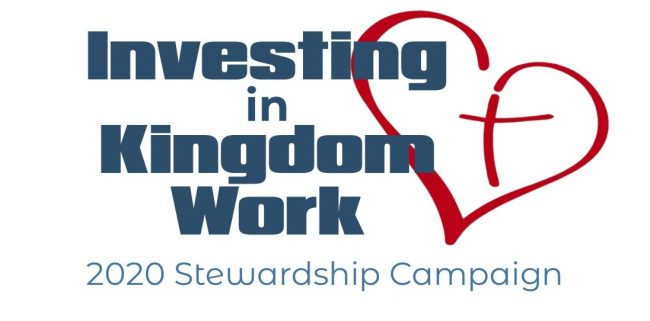 "The kingdom of heaven is like treasure hidden in a field. When a man found it, he hid it again, and then in his joy went and sold all he had and bought that field." -Matt 13:44
Fall is here, Thanksgiving is coming, and our Stewardship program is underway. This is our opportunity to make an investment in God's Kingdom, to steward our resources faithfully.
Investing in Kingdom Work Gives Life—Life to the receiver and life to the giver. When we give to God's work, we see transformation and restoration. We experience God, we find community and we serve the world. Some of the places your investment in Kingdom Work at Kennewick First Pres is making a difference is through our children and youth ministries. Children and students have a safe place to belong where they learn about God and experience God's love and acceptance. In a world where negativity, anxiety, and depression prevail, the love and light of God shines brightly here. Our Children's and Student Ministries outreach has grown this year, thanks to investing in full-time directors for children and youth. Our outreach will continue to grow as we expand our Coffee Shop ministry and opportunities for young people to serve God here.
Investing in Kingdom Work Gives Hope—As we travel to Jamaica with Embracing Orphans and travel to Uganda with Music for Life, we will be making a difference in the lives of some of the most vulnerable children around the world. As we meet local needs through Homework Helpers and Trailseekers, our investment of time, effort, and funds brings hope to places desperate for love and connection.
Investing in Kingdom Work Gives Opportunity—As we share our facility with Noah's Ark Preschool, Boy Scouts, Girl Scouts, local AAU teams, fitness groups, Opportunity Kitchen, MusikGarten, and many more, we provide a community resource for people to grow, learn and share. Opportunities for transformation are created when we invest in God's Kingdom at Kennewick First Pres.
"This is a church that cares about people," is one of the best quotes I have heard about us lately. When people are in need, we provide food and gas cards. When people are lost and alone, we provide community and connection. We pray with them and give them hope.
What is this Investment in Kingdom Work, God's Kingdom worth to you? As you prayerfully consider your gifts to Kennewick First Pres for 2020, please remember the investment you are making for eternity. Growing the Kingdom of God has eternal dividends—it's worth the investment.
Warmly in Christ,
Rev. Hanna Peterson Shearer